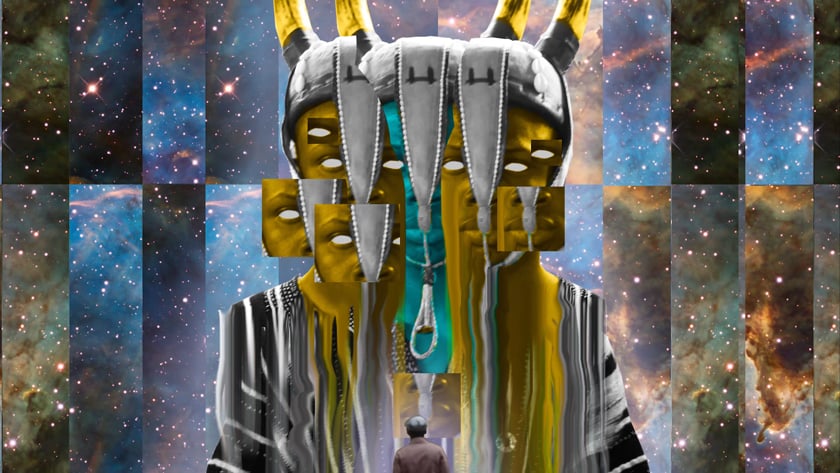 Damon Davis
The Stranger
Live screening on loop, June 12, 12pm - 5pm 
Studio A4, The Arts Center at Governors Island
110 Andes Rd, New York, NY 10004
View map +
Digital streaming on demand, June 13-27, exclusively on LMCC.net
In 2018, artist Damon Davis was one of the inaugural creatives to be part of the Indelibl Artist Residency in Ghana. For one month Davis lived, learned and created in Ghana, touring the country and speaking to Ghanian artists and citizens. Over his month-long residency, Davis wrote, directed, and shot, The Stranger. It is an allegorical story about Davis, a Black American, returning to the place of his origin, West Africa. It speaks to the complex relationship between the Diaspora and the continental African people, as well as the rift that slavery created and the expectations of a person returning to a "homeland" they have never been. In the story, a Stranger falls from the sky in search of a Castle and a Queen. Along his journey, he meets a host of magical characters that guide his way through this foreign land. When he finally reaches his Castle and Queen, the two are not exactly what he expects.
---
Damon Davis, Director, Producer, Writer, Score, Photography
Chris Renteria, Producer
Owen Ragland, Score
Ria Boss, Narrator
Sel Kofiga, The Stranger & The Fisherman
Damon Davis, The Chief
Lola Ogbara, The Sisters
Dalychia Saah, The Queen
Lawrence Kwakye, Photography
Matt Sawicki, Sound Mixing
Damon Davis (b. 1985) is a post-disciplinary artist based in St. Louis, Missouri. In a practice that is part therapy, part social commentary, his work spans across a spectrum of creative mediums to tell stories exploring how identity is informed by power and mythology. He is well known for his solo exhibition, "Darker Gods in The Garden of The Low Hanging Heavens", which premiered in St. Louis in 2018 and went on to show at Art Basel Miami later that year. The exhibit explored the surrealist manifestations of Black culture by constructing new mythologies in response to tropes of Blackness. In 2010, Davis founded music collective and label, FarFetched, for which he now serves as creative director. Filmmaker Magazine selected him and Sabaah Folayan as part of the "25 New Faces of Independent Film 2016" for their work co-directing the critically acclaimed documentary Whose Streets? chronicling the Ferguson uprising of 2014. In 2020, critic Ben Davis cited his project "All Hands on Deck", which captured the hands of people who shaped and upheld the Ferguson movement, as one of the "100 Works of Art That Defined the Decade." Davis is a 2015 Firelight Media Fellow, 2016 Sundance Lab Fellow, 2017 TED Fellow, and 2020-2022 Kennedy Center Citizen Artist Fellow. His work is featured in the permanent collection at the Smithsonian's National Museum of African American History and Culture.